Seattle Japanese Garden: A Historical Perspective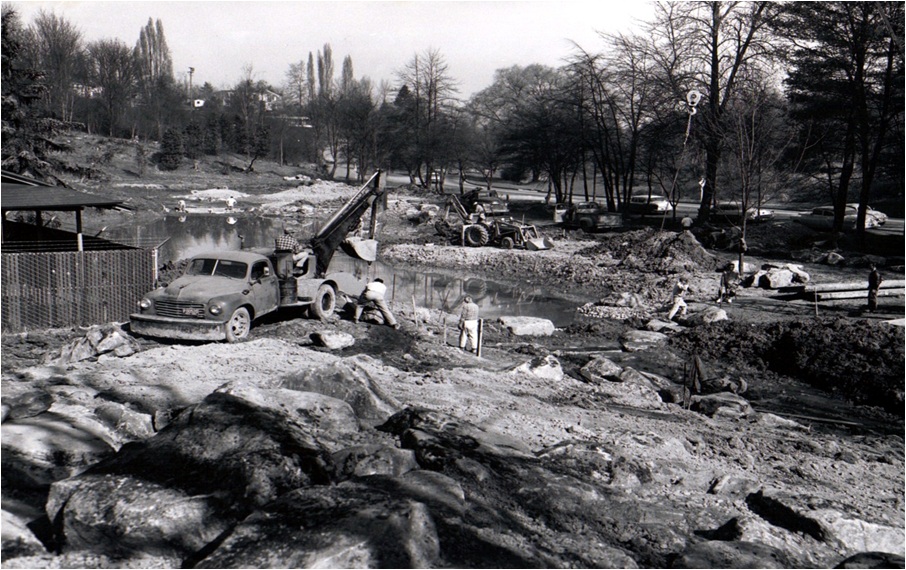 During the construction of Seattle Japanese Garden. This photo shows work on March 4, 1960. Photo: University of Washington.
Our Seattle Japanese Garden is considered a "stroll garden," and consists of a central pond with a meandering path around it. In many ways, it resembles the stroll gardens created in Japan during the Edo Period (1603-1867).
In actuality, our garden is a "Japanese-style garden" created in the U.S., and not a "Japanese Garden."
The following summarizes some of the history discussed by Kendall H. Brown in his 2013 book, Quiet Beauty: The Japanese Gardens of North America. It's an important work, with many beautiful photographs -- more comprehensive than his earlier work, Japanese-Style Gardens of the Pacific West Coast (1999).
Before World War II, Japanese-style gardens in North America were mostly temporary. They were built at international expositions, on large estates, and as commercial enterprises. Brown considers them "part of a larger infatuation with things Japanese," and discusses their artificiality and exoticism. Many were destroyed or not maintained. This trend ended with the outbreak of World War II.
During the war, Japanese-Americans who were interned in camps such as Minidoka (Idaho) and Manzanar (California) built Japanese-style gardens in the camps. They used whatever materials could be found in the bleak, isolated places where the camps were built. These unique gardens reflected a Japanese-American perspective, and embodied the creativity & strength of character of those who built them.
After the war, the Eisenhower administration developed a "sister city" program, and Japanese-style gardens were built in the U.S. as civic "friendship gardens." Gardens in Seattle and Portland, Oregon, are examples. According to Brown, the Seattle Japanese Garden "is arguably one of the finest in North America. … It was the first major public Japanese garden built on the West Coast after World War II, and its creation inspired a flowering of public gardens from Vancouver to San Diego."
Tokyo Metro Parks provided the design for Seattle's Japanese Garden, and sent Juki Iida and Nobumasa Kitamura to supervise its construction. Completed in June, 1960, our garden has a complex administrative history. Agencies involved include the University of Washington, the Seattle Parks Department, and the Arboretum Foundation. Funds, management and maintenance have been inadequate at various points in the garden's history.
More recently, in 2009, a new gatehouse/entry was built at the south end of the garden. Also in recent years, the Seattle Parks Department gardeners who maintain the garden have achieved a very high level of maintenance. To all of us who love the garden, including the volunteer docents who lead garden tours (known as Unit 86 of the Arboretum Foundation), these improvements reflect the vision of peace, beauty and civic pride that led to the garden's creation.
However, as is true of gardens everywhere: our garden is always changing. Buildings and other structures fall apart; plants age but don't stop growing. Ongoing maintenance of structures and plants is essential, and includes pruning, removal and replacement. For example, this past winter the gardeners removed a 30-foot Japanese Cedar (Cryptomeria japonica) from the Teahouse Garden (roji). Cryptomeria is a magnificent, iconic tree in Japan, but this specimen had become so large that balance and harmony were lost. With its removal, the Teahouse Garden is in balance again – for the time being. The garden will always be a work in process. Corinne Kennedy is a trained guide for Seattle Japanese Garden and a contributor to the garden's blog.